Gateway to idyllic play area in Holne
Holne Playpark – an idyllic rural play area - now has a fantastic new entrance gateway, and more seating, thanks to funding from Dartmoor National Park Authority and Holne Books – (who sell donated second-hand books to raise funds for community projects and Devon Air Ambulance) and help from volunteers.
It was important that these access improvements were carried out to provide easier, safer and more inclusive access.  This lovely playpark on the edge of Dartmoor now has many visitors, and further seating was also needed.
Fleur Powell, Chairman of Holne Playpark charity said "It is wonderful that we finally have a new gate that is not only inclusive in its design, allowing easier access for buggies and ambulant disabled people but is also much safer and opens in towards the park rather than across the road. We have been careful to retain the original granite columns and our lovely kissing gate has been restored. With these welcoming access improvements and a new, much needed hardwood bench, kindly personalised for us, we hope that everyone can continue to use our popular community space.  Thanks to everyone who helped with this project."
With the sun hopefully continuing to shine for the summer holidays – the playpark is now ready for the many locals, and visitors from near and far to enjoy.  And after their visit to playpark they can then pop down the road for a nice cuppa and a slice of cake, lunch or a lolly at the Holne Community Shop and Tearoom!
Jo Rumble from DNPA said  "'The Play park is a lovely space with some wonderful views, what better place for the Dartmoor Communities Fund to help local volunteers provide better access so that many more residents and visitors to Holne can enjoy it'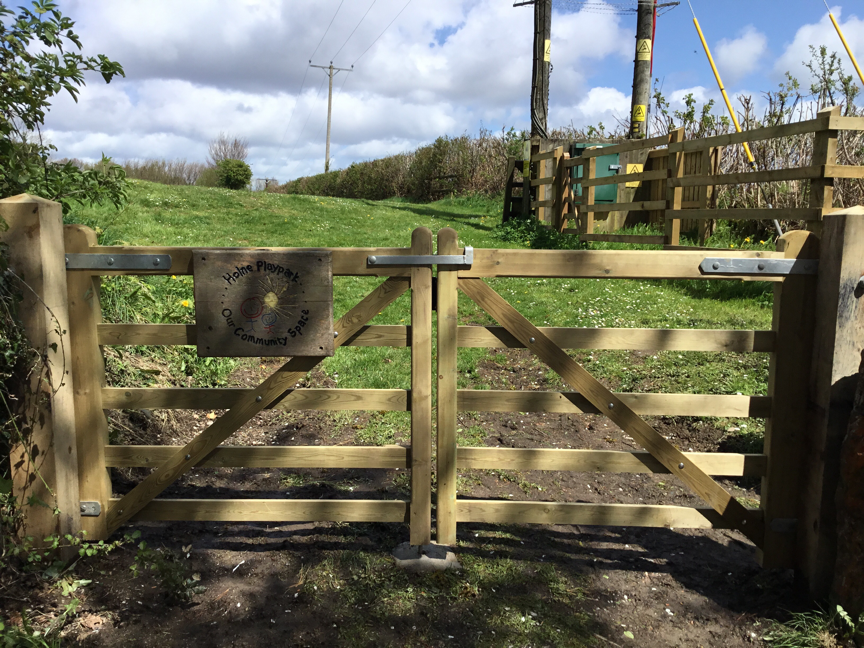 The play park at Holne is managed and run by a dedicated team of volunteers.