COVID19 parish response
There are currently important restrictions on movement in place in all parts of the UK to help combat the COVID19 pandemic. These include minimising contact with others.
In a small, rural parish we are pretty good at keeping an eye on each other, but it is important we offer help to those who need it, with their shopping, getting prescriptions etc. without actual contact or going inside their homes.
The over 70's and those with underlying health conditions are most at risk from the virus.
If you are 'self isolating' (staying mostly indoors without seeing anyone else) and worried about keeping warm, getting food or medicine and don't have anyone you can call on to help, there are community volunteers in the local parishes who can help. Contact a volunteer through one of the following:
Holne and Scorriton Community Group (Facebook)
Holybrook Exchange
Or contact me and I will help!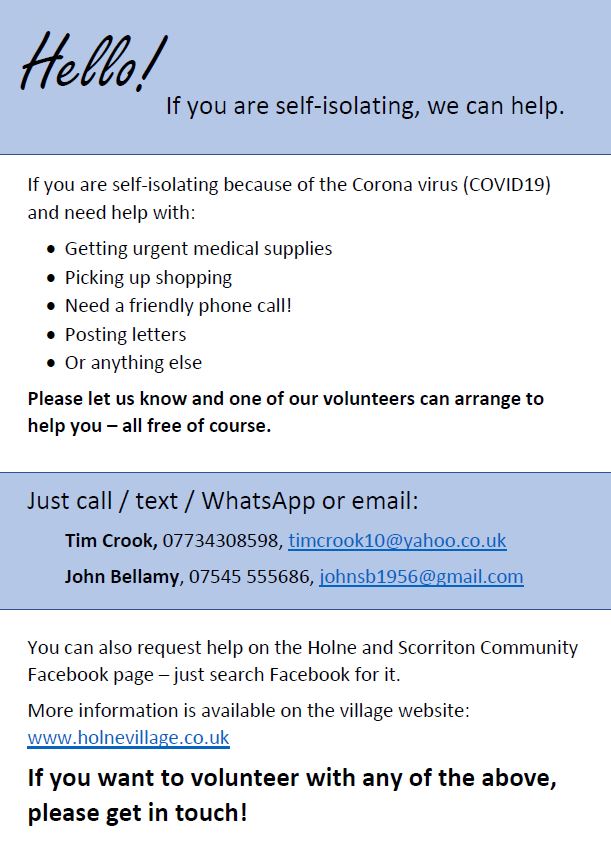 Government advice and support
Devon County Council: COVID-19 Grant:  DCC maintains a list of grants, funds and support for families, workers and businesses - Link 
UK Government latest information and advice: All the latest information and instructions from UK gov't during the pandemic - Link
Local businesses and deliveries: Widecombe parish council have produce a fantastic list of what services local businesses are still providing - Link